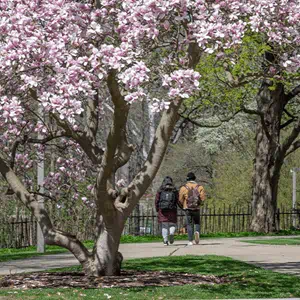 MSU Community Engagement
A listing of all the places in cyberspace—Twitter, Facebook, Flickr, LinkedIn, YouTube—where you can find members of the Spartan staff and community.
MSU advocates a scholarly model of outreach and engagement that fosters a reciprocal and mutually beneficial relationship between the University and the public.
Each year, thousands of MSU undergraduates participate in research or other creative activities. Their efforts help to extend the frontiers of knowledge and make substantive contributions to the intellectual community.
MSU administers over 275 programs taking place in more than 60 countries around the world.
Whether you are interested in selecting the right major, exploring career options, looking for a part-time job or internship, or preparing for an interview, our team is here to help you.
The Center for Community Engaged Learning provides engaged, issues and service-focused, community-based, mutually beneficial, and integrated learning opportunities.
ASMSU is the undergraduate Student Government of MSU. Our mission is to enhance our individual and collective student experience through education, empowerment, and advocacy by dedication to the needs and interests of students.
Engage in healthy lifestyles through sport, fitness and recreational opportunities.
With more than 1,000 student organizations, MSU has something for everyone. No matter who you are or what you are interested in, you're sure to find at least one you'll want to join.